The World of Film, Shanghai Film Exhibition
Film exhibition「APFE」was founded in 2007, is the founder of the global film exhibition, is committed to promoting the progress and development of the film industry in China and even the world.After 15 years of development and growth,「APFE」has become an annual international premier event for membrane products, technologies, information, markets and services.
「APFE」 has two exhibitions, "Flexible Package Exhibition" and "Tape & Film Exhibition", with a total area of 53,500 sqms, and is expected to attract more than 39,500 professional visitors.The grand size of the lineup and the large number of audiences will build up unmatched business opportunities for membrane industry, is an important channel for membrane industry to learn new products, new technologies and market development trends, but also for more terminal business to provide more professional, convenient, fast film new material application and technical solutions.
More than 15 years, every peak, is a new starting point!
「APFE」invites you to gather together in Magic city-Shanghai: The world of film, Shanghai film exhibition!
APFE 2021 was successfully held in Shanghai NECC from May 26-28, 2021. The exhibition area reached 40,500 sqm (1,549 booths), with 526 exhibitors participating. The exhibition attracted 43,698 professional visitors, including printing/color printing packaging factories, bag making factories, material vendors, equipment vendors, as well as technology application businesses in consumer goods, food, beverage, medicine, daily chemicals and other high-value-added industries.
Conference and show simultaneously held, leading industry vane.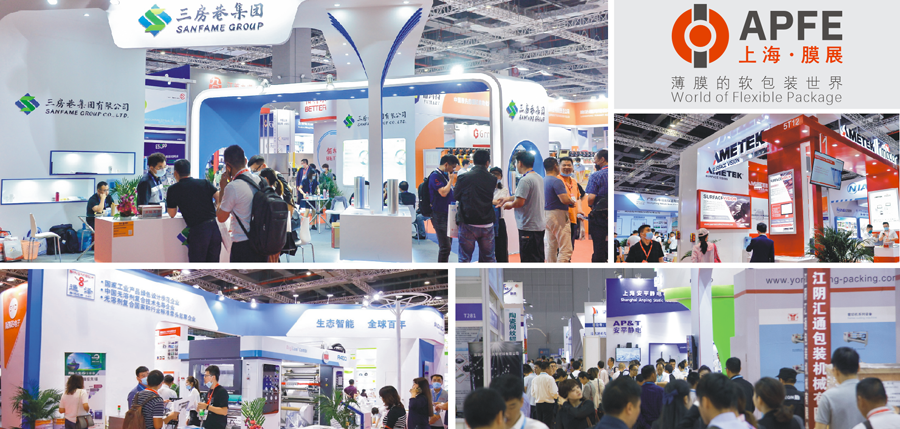 World of Flexible Package